In this age of invention, every day or so it seems like some new kitchen "gadget" is brought to the market. They certainly do make our lives easier, especially in the fast-paced world we live in today. But sometimes, while it might sound good in theory, these gadgets fail miserably in achieving what they promise to. When that happens, you'll have wasted a bit of your money.
And then there are those products that surprise you. You might not even have known you needed them, but once you use it, there's no going back. These genius inventions make a lot of senses, and deliver their promise in a creative and cool way.
They say that necessity is the mother of invention, and these products bring that saying to life while also being cool and fun to use!
Here are some of the quirkiest, coolest kitchen gadgets. And the best part is that they actually WORK!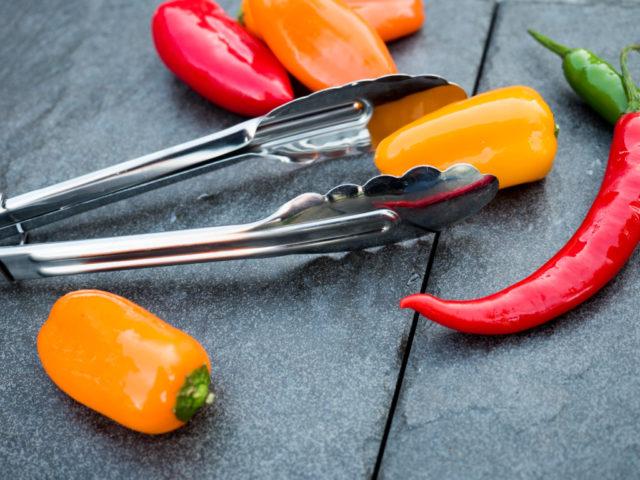 1. Dog Corn Holders
Don't you hate it when you burn your fingers on a piping hot freshly cooked corn on the cob? And it's just not as good when its gone cold! The Dog Corn Holder is the perfect helper; it'll keep your fingers safe and look really adorable too!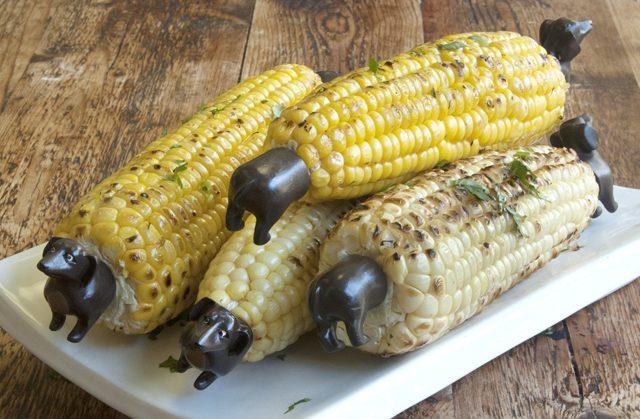 2. I Could Eat A T-Rex
If you're like me, you can never guess exactly how much pasta you need to cook that is the right amount. You end up making less or way more than you need. The I Could Eat a T-Rex Pasta Measure has four sizes from child to… T-Rex. If you're not planning on inviting a dinosaur to dinner any time soon, that serves about 3-4 people for you.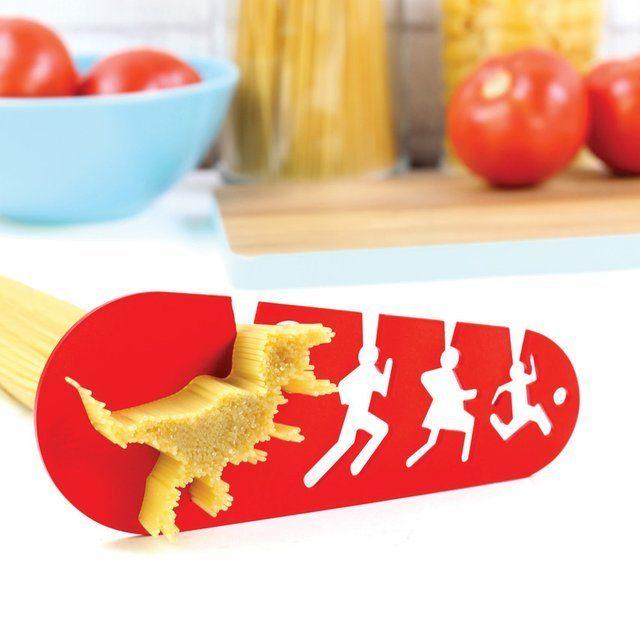 3. Edge Brownie Pan
You know everyone's favorite piece of a brownie is the edge. Nothing beats that crispy and soft combination! Now you don't have to fight for those delicious corners anymore, because with this unique brownie pan, every piece is a corner piece!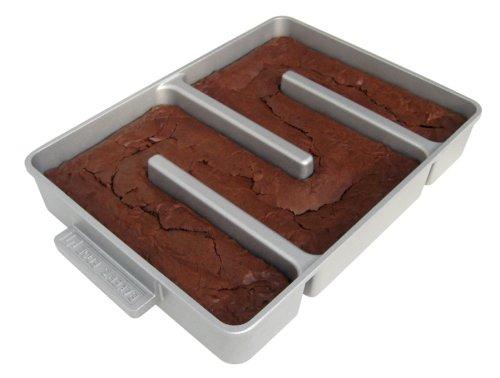 4. Unicorn Sprinkles Dispenser
If unicorns were real, what would their poop look like? If you answered rainbow-like sprinkles, then this gadget is perfect for you! Watch your kids get a kick out of decorating cupcakes using this cute gadget. It'll also look good in kitchen as decoration when not in use.
5. Never Soggy Cereal Bowl
If you're one of those people that hates soggy cereal, then this is the perfect item for you. This bowl comes with a partition that separates the cereal and the milk. Just scoop some cereal, dunk it in the milk and have the perfect spoonful of non-soggy cereal from start to finish.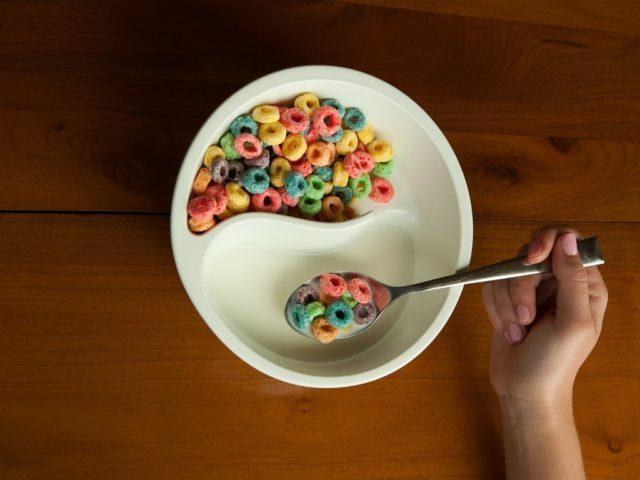 6. Ben & Jerry's Ice Cream Locker
Got pesky roommates that steal your food? Or are you trying to keep your kids from getting into ice cream before their meals? Then this Ben & Jerry's Ice Cream Locker is the ideal gadget for you! It even comes with a slogan: "I'm terribly sorry. There's no "u" in "my pint"". You've got that right!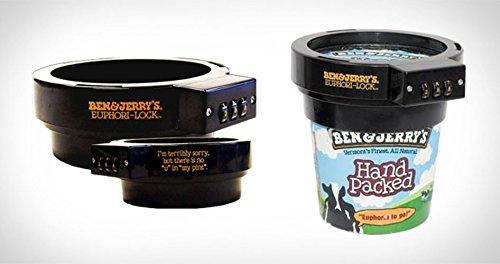 7. SpreadTHAT! Heating Knife
Everyone knows one of the most annoying things in life is cold hard butter that is impossible to spread. The SpreadTHAT! Heating Knife is a lifesaver because it does the job of softening the butter to just the right consistency so you can spread it perfectly on your toast instantly without any trouble.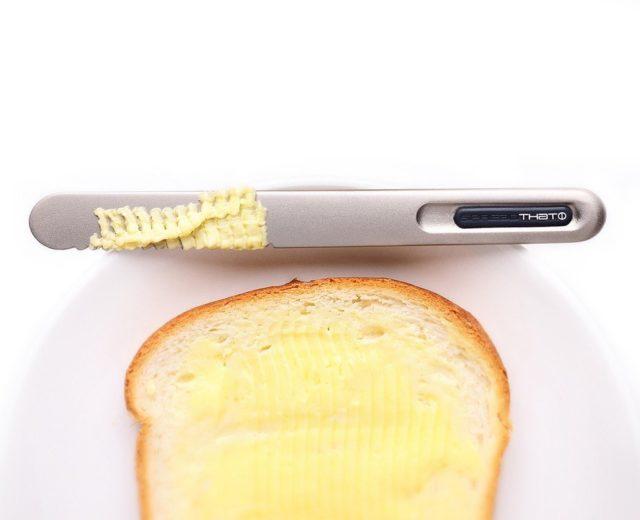 8. Trongs
The worst part of eating finger food is that your fingers get all oily and dirty. If you're multitasking while eating, you risk getting grease all over whatever your using, or having to wash/wipe them often. With Trongs, your troubles are about to go away! You can use it for eating or in the kitchen to keep your hands clean when breading things, etc.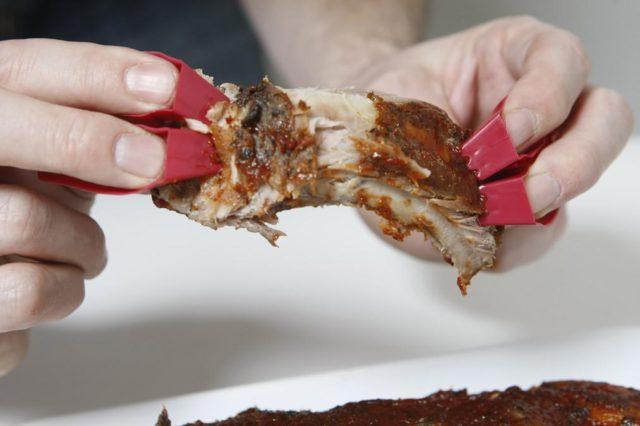 9. Singing Chef Pasta Timer – Chef Al Dente
Any Italian will tell you how important it is to cook your pasta to the perfect consistency – "al dente" or with a slight bite. But it can be hard to guess the right time to take it off. This pasta timer takes the guesswork out of it, and literally sings when your pasta is done! Just watch the hilarious commercial for it below.
10. Boogey Yolk Separator
This is one of those fun gadgets to have in your kitchen. While there are many yolk separators out there, this one is definitely unique. Try not to get grossed out by the boogey-like yolk dripping out of the troll's nose!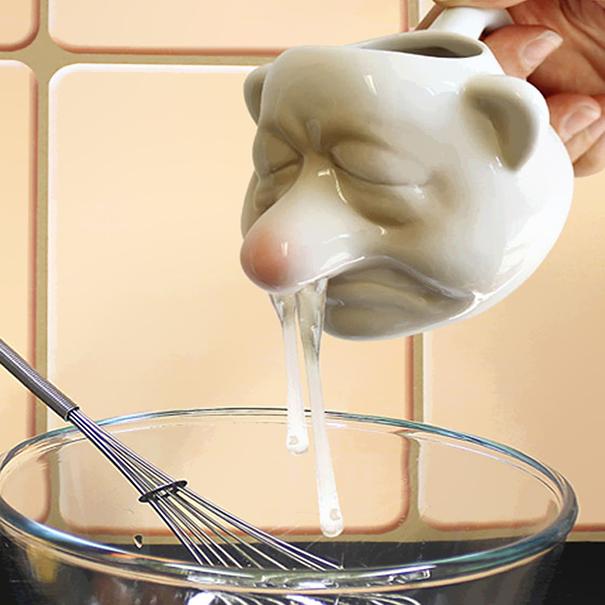 11. Bicycle Pizza Cutter
Why get a plain pizza cutter when you can have this quirky and cool gadget? Not only does it look really cute sitting on your counter top, it also works far better than and ordinary pizza cutter. The sharp dual wheels also ensure that your pie is perfectly sliced.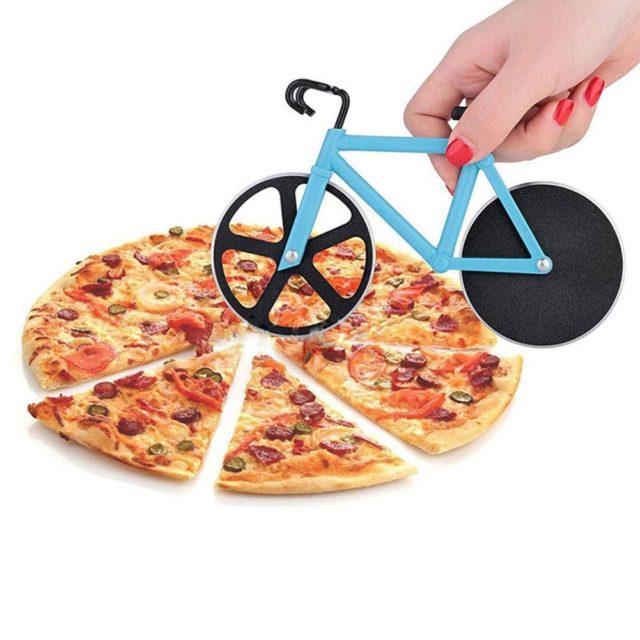 12. Rollie Automatic Egg Cooker
Love having eggs in the morning but don't have the time to cook and eat it before work? Or maybe you're just tired of having them the same old boring way? The Rollie cooks your eggs automatically, and in a cool shape too! Cylindrical-shaped egg is certainly not common. You can grab and go in the morning, serve them at a brunch party, pack them for kids' lunches… the possibilities are endless!