9 Dishes To Use Up Leftover Roast Chicken
We've all been there; it's Sunday night roast dinner and you have friends and family over. You're worried about whether there's enough food for everyone, but surprise (not really), there's so much left over!
Instead of trying to shove leftover chicken into Tupperware boxes and force them into unwilling guests, save it for yourself and you can make a quick weekday lunch or dinner using them. Saves you time and money, score! There's also so many things you can do with other leftovers like rice, mashed potatoes, etc.,etc., but those are for another post.
For now, let's look at how you can use up leftover chicken: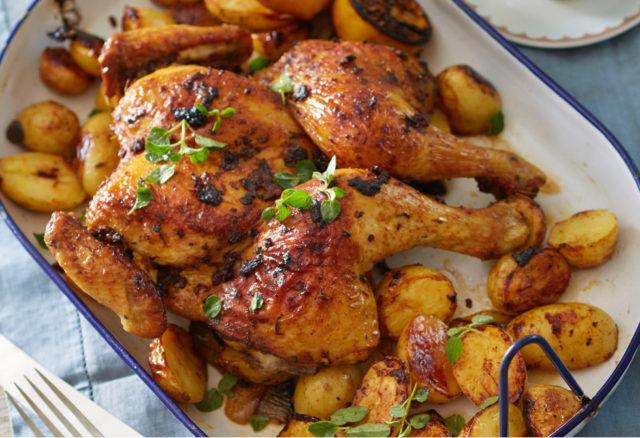 1. Make Sandwiches & Wraps
The possibilities here are just endless. You could mix it up for each day of the week with different salads, sauces, and accompaniments; all using the same leftover chicken!
Roast Chicken Sandwich
Source: http://marmadukescarlet.blogspot.in/2012/06/i-love-my-lunch-my-favourite-roast.html
Ingredients:
leftover roast chicken, shredded
3 tbsp mayonnaise
1 tbsp natural yoghurt
1 tbsp fresh lemon juice
¼-½ tsp smoked paprika
salt and pepper
6-8 x baby plum tomatoes, sliced
½ x cucumber, halved, deseeded and sliced
rocket leaves
a good rustic loaf
Directions:
In a bowl, combine the mayonnaise, yoghurt, lemon juice, paprika, salt, pepper, and chicken. Mix well.
Divide the mixture into four sandwiches, top with rocket, tomato, and cucumber. Slice and serve!
2. Make Salad
Salad is a great way to eat light and healthy, but they can sometimes be a little boring. But with the right sauces and the right mix of fresh veges, nuts, and sometimes even fruit, it can be amazing. Add roast chicken to it and it's unbeatable!
Vietnamese-Style Shredded Chicken Salad
Source: https://www.theguardian.com/lifeandstyle/2014/sep/23/21-recipe-ideas-for-leftover-roast-chicken
Ingredients:
2 tbsp sugar
1 tbsp rice wine or white wine vinegar
3 tbsp fresh lime juice
2-3 tbsp fish sauce
1 tbsp vegetable oil (or 2 tsp sesame oil)
2 birdseye chillies, de-seeded and chopped finely
3 garlic cloves, very finely chopped
1 shallot, very finely sliced
leftover roast chicken
shredded vegetables, including cabbage, carrots and cucumber
2 tbsp chopped mint and coriander
Directions:
Mix together the sugar, rice wine vinegar, lime juice, fish sauce and vegetable oil until the sugar dissolves. Add the chilli and garlic.
Combine the onion, chicken and shredded vegetables together with the chopped herbs. Drizzle over the dressing and toss lightly. Enjoy!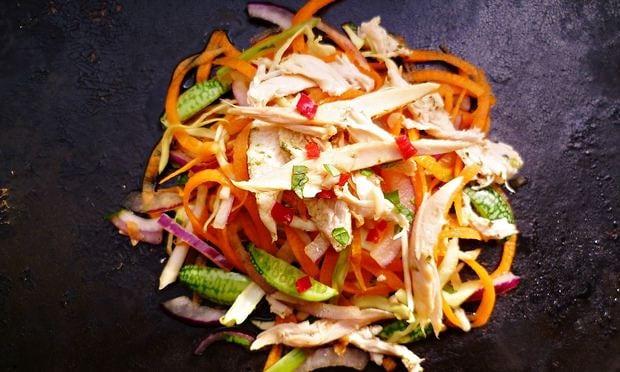 3. Make Curry
Yes, you can make curry with leftover roast chicken too. Just make the base for a curry, add the chicken and voila! Here's one way to do it:
No-Fry Thai Curry
Source: https://www.bbcgoodfood.com/recipes/1478/nofry-thai-curry
Ingredients:
2 rounded tbsp Thai green curry paste
400ml can coconut milk
2 skinless boneless chicken breast fillets, thinly sliced
1 red pepper, seeded and cut into chunks
3 spring onions, sliced
cupful of frozen peas
2 tbsp chopped fresh coriander or basil, rice or noodles to, serve
Directions:
To make the sauce, stir the curry paste over the heat in a medium pan for a few seconds, pour in the coconut milk and bring to the boil.
Now add the chicken and veg and cook till it starts to bubble again. Turn down the heat and cook very gently for 5 minutes until the chicken is tender but the vegetables still have some texture. Stir in the coriander or basil and serve with rice or noodles.
4. Make Noodles/Pasta
Noodles/Pasta is also a great way to use up leftover meat and veges, and they are sure to be delicious.
Leftover Chicken and Roasted Garlic Pasta
Source: http://www.geniuskitchen.com/recipe/eds-leftover-chicken-and-roasted-garlic-pasta-321996
Ingredients:
1 cup cooked chicken, cubed/shredded
1 head garlic, roasted
2 shallots, minced
1⁄4 cup butter
salt and pepper
1 cup chicken broth
1 cup cream
1 lb fresh spinach
Directions:
Heat butter in a large skillet and saute shallots for about 1 minute. Squeeze out the garlic cloves and add into the mixture. Add chicken, season with salt and pepper.
Add chicken broth and reduce by 1/2. Add the cream and reduce by 1/4, then add the spinach and cook at a low simmer until the sauce coats the back of a spoon.
Serve over pasta.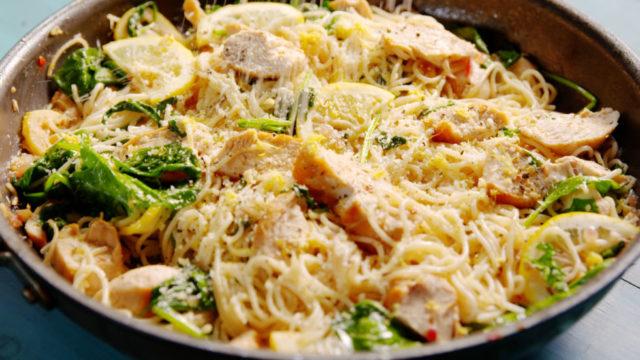 5. Make Fried Rice
Fried rice is such a delicious dish and one of the best easy to use up leftover meat/ and even vegetables if you've got any. Here's a standard chicken fried rice recipe. Change it up and make it your own!
Chicken Fried Rice
Source: https://www.stayathomemum.com.au/recipes/side-dishes/fried-rice/
Ingredients:
1 Onion, finely chopped
1 Egg, beaten
1 cup Mixed Frozen Vegetables
2 tbsp Soy Sauce
2 cups cooked rice
Directions:
Heat a little oil and fry the onion until cooked. Add the vegies (and a few tablespoons of water), cover and cook until tender but still slightly firm.
Push mixture to the side and add the egg; let it cook and mix with the rest.
Add the rice, soy sauce to taste and cook until fully combined and heated through.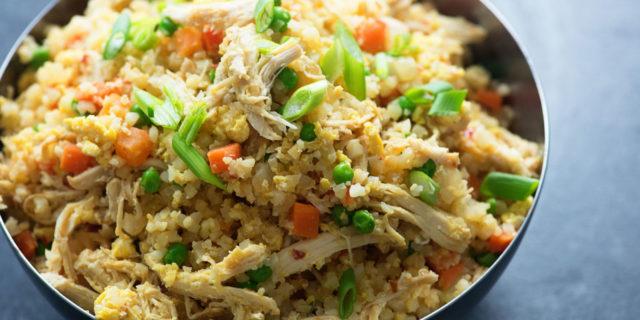 6. Make Soup
Soup is the ultimate rainy day accompaniment, and your rescuer when you're feeling ill. But another good reason to make soup is to use up all that leftover chicken!
Roast Chicken Soup
Source: https://www.bbcgoodfood.com/recipes/9831/roast-chicken-soup
Ingredients:
1 tbsp olive oil
2 onions, chopped
3 medium carrots, chopped
1 tbsp thyme leaves, roughly chopped
1.4l chicken stock
300g leftover roast chicken, shredded
200g frozen peas
3 tbsp Greek yogurt
1 garlic clove, crushed
squeeze lemon juice
Direction:
Heat oil, add onions, carrots and thyme, and saute for 15 mins.
Pour stock, cover and bring to a boil. Then simmer for 10 mins.
Add the chicken. Rremove half the mixture and purée with a stick blender. Tip back into the pan with the rest of the soup, peas and seasoning. Simmer for 5 mins until hot through, and serve!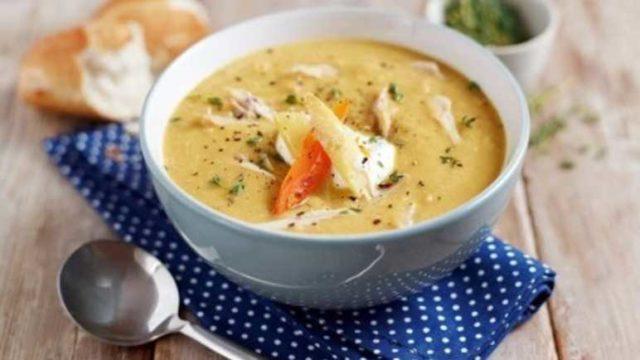 7. Make Pie
Chicken pot pie is the ultimate comfort food, and if you have leftover roast chicken, it's super easy to make!
Chicken Pot Pie with Butternut Squash
Source: https://www.epicurious.com/recipes/food/views/skillet-chicken-pot-pie-with-butternut-squash-51143240
Ingredients:
1/4 cup olive oil
1 cup frozen white pearl onions, thawed
4 garlic cloves, finely chopped
1 tbsp fresh sage, chopped
1 small bunch kale, center ribs and stems removed, leaves chopped
salt & pepper
1/4 cup all-purpose flour
3 cups low-sodium chicken broth
1/2 small butternut squash, cubed
1/2 rotisserie chicken, shredded
1 sheet frozen puff pastry
1 large egg
Directions:
Place a rack in upper third of oven; preheat to 425°F.
Heat oil in an 8″ cast-iron or other ovenproof skillet over medium-high heat. Cook onions until they begin to color. Reduce heat to medium-low and add garlic and sage and cook till garlic begins to brown. Add kale and season with salt and pepper. Cook, tossing often, until wilted. Sprinkle flour and cook, stirring constantly, for 4 minutes.
Stir in broth, 1/2-cupful at a time, then add squash. Bring to a boil, reduce heat, and simmer until squash is just softened and broth is thickened, 8-10 minutes. Add chicken to skillet, stir, and season with salt and pepper.
Unfold pastry and place over skillet, allowing corners to hang over sides. Brush with egg wash and slit the top.
Bake until pastry begins to brown, 15-20 minutes. Reduce oven temperature to 375°F and bake until pastry is deep golden brown and crisp, 15-20 minutes longer. Let cool slightly before serving.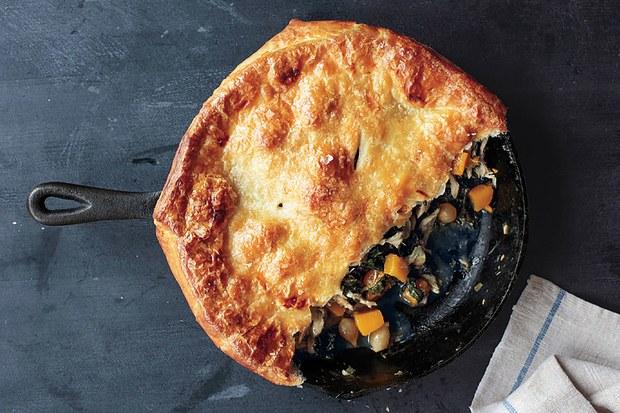 8. Make Pizza
Who doesn't love pizza? And homemade pizza is the absolute best! Your kids will love you for making pizza on a weekday, and you won't even have to put in that much effort.
Roast Chicken Pizza
Ingredients:
Pizza dough (homemade or store-bought),
Pizza sauce (homemade or store-bought)
roast chicken, shredded/sliced/cubed
toppings, mushroom/onions/olives/pineapple (as you wish)
cheese, shredded.
Directions:
Roll out pizza dough, cover with sauce and toppings, sprinkle with cheese, and bake according to instructions on pizza dough!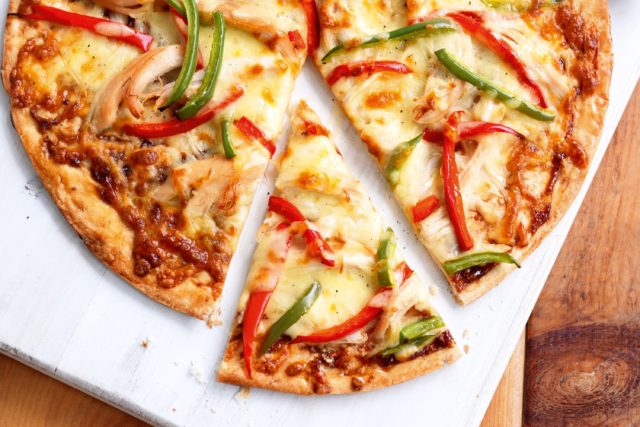 9. Make Stuffed Vegetables
Leftover roast chicken is a great ingredient to add into your stuffed vegetables. If you've got picky eaters, they'll might be persuaded by the chicken.
Chicken Pesto Grilled Portobello Mushrooms
Source: http://www.myrecipes.com/recipe/chicken-pesto-grilled-portobello-mushrooms
Ingredients:
Cooking spray
1 small red onion, peeled and sliced
1/3 cup pesto
1 tsp olive oil
salt & pepper
12 oz shredded skinless, boneless rotisserie chicken breast
4 large portobello mushrooms, stems removed
3 oz mozzarella cheese, shredded
Directions:
Preheat broiler to high, and heat a grill pan over medium-high heat. Coat pan with cooking spray. Arrange onion slices on pan; cook 2 minutes on each side or until lightly charred. Remove from pan and chop coarsely.
Combine chopped onions, pesto, oil, salt, pepper, and chicken in a medium bowl; toss well. Divide mixture evenly among mushrooms, pressing gently to fill each cap.
Return pan to medium-high. Coat with cooking spray. Gently transfer mushrooms to pan; cook 3 to 4 minutes or until mushrooms are heated through and tender. Sprinkle cheese evenly over chicken mixture. Transfer pan to oven; broil 2 minutes or until cheese melts and begins to brown.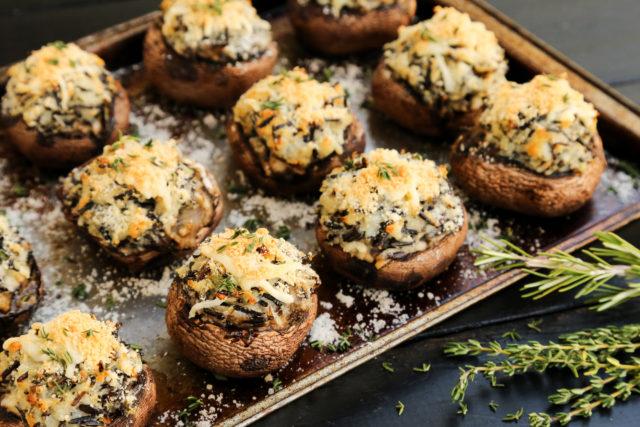 Share On Facebook